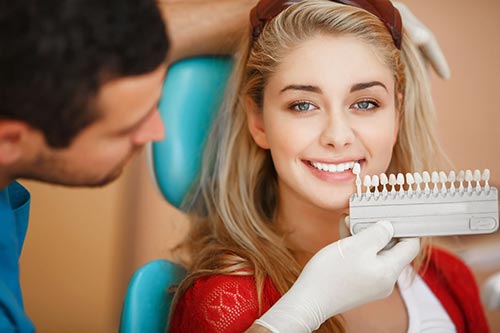 Teeth Whitening in Ottawa
Smile brightly with teeth whitening at Apple's Dental Clinics.
The world deserves to see more of your smile! A healthy, beaming smile inspires confidence that many of our patients don't feel they are entitled to. At Apple's Dental Clinics, we are here to help you rediscover the natural beauty of your pearly whites.
Offering the latest teeth whitening technology in Ottawa.
Teeth whitening involves using simple and minimally invasive methods for effective, long-lasting results. Our full-service dental clinics offer in-office teeth whitening solutions as well as take-home teeth whitening kits for your convenience.
In-Office Teeth Whitening
Our professional teeth whitening system uses bleaching products to magically brighten your smile in 20-30 minutes.
Take-Home Teeth Whitening
Our take-home teeth whitening kits include night guard-style trays that we custom-fit to your teeth. We'll send you home with a peroxide-based gel to line your trays with for use.