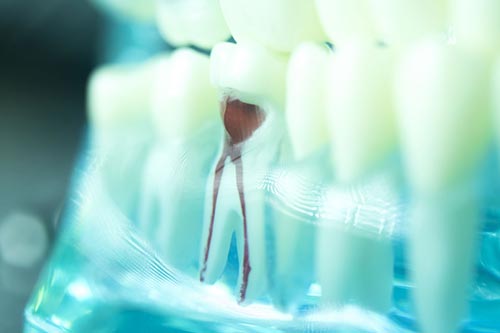 Root Canal Procedures in Ottawa
Root canal treatments for reliable relief
Some might say there is nothing good about a root canal treatment. Our dental professionals at Apple's Dental Clinics will tell you the appeal is in the successful treatment of advanced tooth decay! Let us save your natural tooth and prevent costly replacements or continued discomfort.
Save your smile at an Apple's Dental Clinics location
Tooth decay becomes especially painful when bacteria make it through the tooth surface and into the tooth pulp, which is the soft tissue that houses blood vessels and nerves. To treat this type of infection, your dentist might perform a root canal procedure to evacuate the infected tooth pulp and preserve the tooth's outer shell, which prevents the spread of infection without the need for full extraction.
Your peace of mind is our priority
These procedures are most often performed under a local anesthetic for your comfort! Please contact our 24/7 Dental Emergency Line if you experience persistent tooth or gum pain or other symptoms of an infection in the teeth.