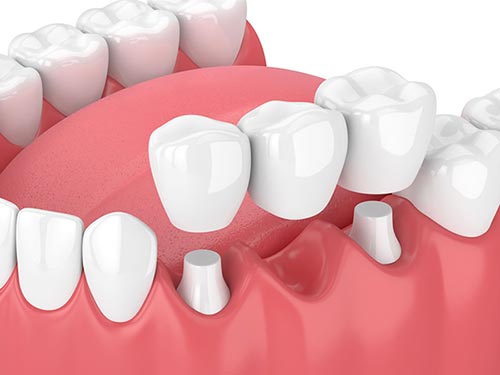 Dental Bridges in Ottawa
Close the gap on missing teeth with a dental bridge.
Our dentists often recommend dental bridges to patients who are missing one or more teeth and are worried about residual shifting. This is a valid concern, as leaving even one socket empty allows for the remaining teeth to shift and crowd.
How do dental bridges work?
Dental bridges are essentially carbon copies of your missing teeth that are attached to nearby teeth. They are specially created to mimic the look and feel of real teeth. At Apple's Dental Clinics, our team of dental professionals will custom-fit a dental bridge to fit your individual tooth structure, maximizing your comfort and the overall aesthetic. Once the dental bridge is created, it is cemented to your remaining teeth (or to dental crowns or dental implants in some cases).
When created properly by our talented dental laboratory technicians in Ottawa, custom-fit dental bridges allow patients to speak, eat and smile flawlessly for years or decades.