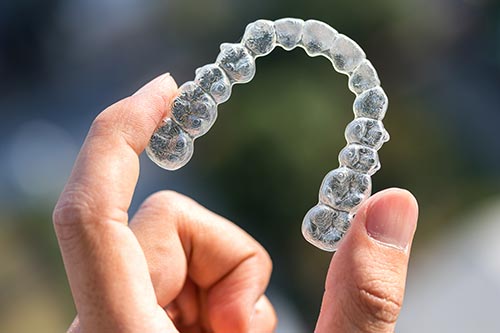 Clear Aligner Therapy in Ottawa
Enjoy a symmetrical smile with clear aligner therapy.
At Apple's Dental Clinics, we offer clear aligner therapy as a minimally invasive alternative to traditional braces. Clear aligner therapy is an excellent option for patients looking to perfect their smile without abrasive wires. While it may not be the right treatment option for every patient in need of orthodontic care, clear aligners can offer a manageable solution for straightening your teeth.
Perfecting your smile one tiny shift at a time.
The idea behind clear aligner therapy is to train your teeth to gently shift by wearing custom-fitted trays for prolonged periods of time, as recommended by our experienced orthodontic specialists at Apple's Dental Clinics located in Ottawa.
Clear aligner therapy has come a long way over the years, but it is not for everyone. To find out if you are a good candidate for clear aligner therapy as opposed to traditional wire braces, contact us today to book a consultation!