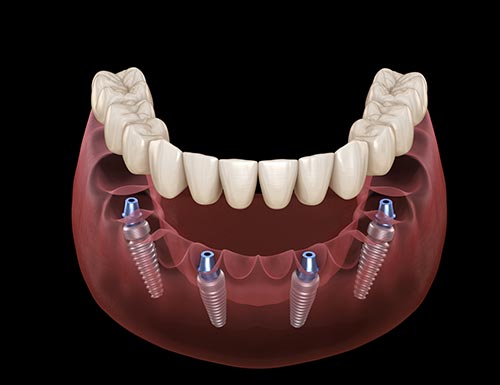 Dental Implants in Ottawa
Design your dream smile with permanent dental implants.
Dental implants have redefined restorative dentistry over the years, offering a permanent solution for patients who have undergone tooth extractions. Our experienced dentists at Apple's Dental Clinics often recommend dental implants for restorative purposes because they are easy to maintain, very comfortable, and natural-looking.
How do dental implants work?
Many people assume a dental implant is an artificial tooth, but the dental implant itself is actually a metal post that is surgically implanted below the gums. As the post heals over time, it naturally fuses to the jawbone to replace the tooth roots. Once the metal post is fully healed, an expertly crafted false tooth or crown is attached to the dental implant for a strong and natural finish.
An investment in your long-term dental health.
Dental implants are costly and more invasive than alternative restorative dental procedures, but as our dental teams know, lifelong confidence and results are priceless.